Position:
Home
News & Events
News & Events
PhIRDA Published a Series of Articles on Remarkable Achievements in Chinese Pharmaceutical Innovation in Nature
On May 4th, 2017, Nature published a series of articles on pharmaceutical innovation in China written by authors from China Pharmaceutical Innovation and Research Development Association (PhIRDA), showing remarkable achievements on the transforming from imitator to innovator in pharmaceutical industry in China during the past decade.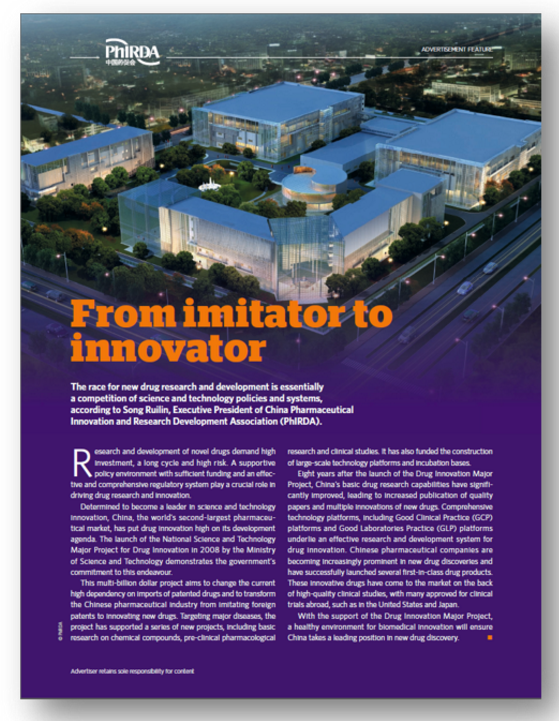 Determined to become a leader in science and technology innovation, China, the world's second-largest pharmaceutical market, has put drug innovation high on its development agenda. Its launch of a national-level multi-billion dollar project has seen significant improvement in capabilities of basic drug research and clinical research, along with rising new drug discoveries. With a healthy environment for biomedical innovation, the Chinese pharmaceutical industry is transforming from an imitator to an innovator.
The column is written by Ding Lieming, Chairman of PhIRDA in 2016-2017 and Chairman of the Board & CEO of Betta Pharmaceuticals Co., Ltd., Song Ruilin, Executive President of PhIRDA, Jiang Jiandong, elect Chairman of PhIRDA & Director of Institute of Materia Medica of Chinese Academy of Medical Sciences, Jiang Hualiang, Chairman of PhIRDA in 2015-2016 and Director of Shanghai Institute of Materia Medica of Chinese Academy of Sciences, and Shi Yuankai, Vice Chairman of clinical research specialty committee of PhIRDA and Deputy Dean of cancer hospital of Chinese Academy of Medical Sciences in five aspects of Chinese pharmaceutical innovation policy driving, drug basic research, innovative drugs platform establishment and clinical research. The column demonstrates systematically, led by national innovation-driven strategies especially support of National Key project on Innovation and Development of Major New Drugs, our country's systemic layout of innovative drug R&D and complete industrial chain of technology innovation, increasing significantly pharmaceutical innovative R&D input and patents for invention, breakthroughs in key bottleneck techniques for innovative drugs, and obvious progress in medical basic research and technique platform establishment. In addition, the column also shows that numerous independently developed symbolic innovative drugs on clinical target in international level are approved to go public, providing new impetus and breakthrough in driving innovation and transformation of medical industry and innovative country establishment.